Activating your transponder
If you purchased a transponder at any motocross race last season your transponder may need to be reactivated for it to work in the upcoming racing season.
All MYLAPS flex transponders have an expiration date. If you purchased your transponder from the MYLAPS site directly you choose how long your transponder would remain active. If you purchased it at the track the expiration date could vary. Flex transponders are easily identified by a white bottom. Classic transponders with a black bottom never expire. All X2 transponders(gray in color) and TR2 (silver in color) have expiration dates.
Have you ever been watching a race and wondered how close your racers lap times are to the leaders?  
Compare your racer to anyone on the track as the race is unfolding by texting a bike number to see the lap time instantly. Keep up with a racers lap times and positions when they cross the finish line by subscribing to any racer. For more info go the the live timing page for the event you are at from the images to the left and click the lap times text to your phone link towards the top of the page.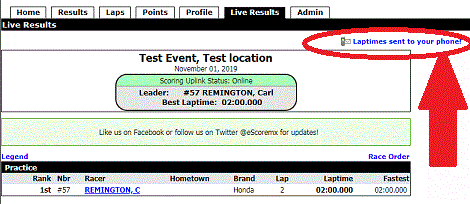 More traffic in your area!
We can help get up 80-90% of all racers into your vendor! A TV feed with live results will help get people attention and even hold them in your pit area. Having kiosks for printing lap times in your area will be sure to bring the majority of racers, or some one from their crew to your area. If your looking for a new creative way to advertise we can even put your logo on all the lap times print outs as well as on the web. Contact us for more details!